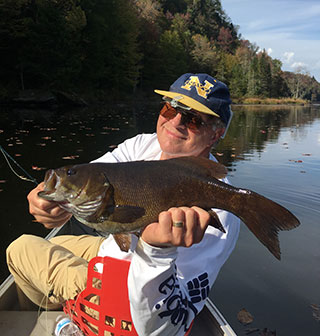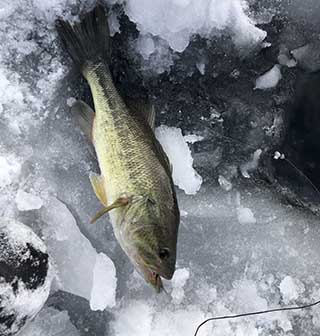 Catamount Fishing Adventures is a

Stowe, Vermont
fishing guide service offering:
fly-fishing
spin-fishing and
ice-fishing
All equipment will be provided for
fly-fishing, spin fishing and ice fishing trips.
You may choose either a:
four hour or
eight hour trip
Day and evening trips are available.
Arrangements can be made for a longer or shorter excursion to accommodate your schedule.
---
FLY FISHING AND SPIN CASTING
The diversity of Vermont's streams, lakes, and ponds allows Catamount to offer angler's:
wade fishing
bank fishing
canoe fishing
motorboat fishing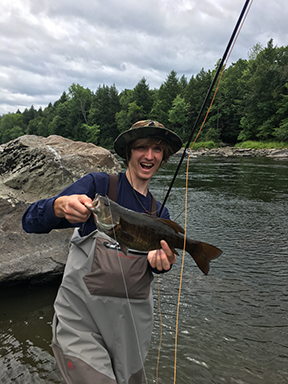 What to bring on fishing trip with Catamount Fishing Adventures:
Sunglasses (polarized is preferable)
Hat
Raingear (can provide for guests without)
Suntan lotion and bug repellant
Drinks and snacks (lunch offered for full days)
Warm socks for wade fishing
Earth tone clothing no bright colors
Positive attitude
Catamount Fishing Adventures encourages anglers of all ages and abilities to give fishing a try.
Wading Adventures Half Day
1 Person: $275

2 People: $400

3 People: $450

4 People: $500
Wading Adventure Full Day
lunch included
1 Person: $400

2 People: $500

3 People: $550

4 People: $600
Canoe/Float Tube Half Day
1 Person: $300

2 People: $425 (float tube only)
Canoe/Float Tube Full Day
lunch included
1 Person: $425

2 People: $500 (float tube only)
Motor Boat Full Day
lunch included
ICE FISHING
Half of the year in Vermont is cloaked in winter. What a better way to spend some winter fun than on the hard water? Catamount Fishing Adventures offers ice fishing trips from the end of December to the beginning of April.
All ice fishing adventures are educational. Guests will learn how to read the ice and determine if conditions are safe. All anglers will be equipped with safety equipment. Picks of life are provided to wear around the neck, creepers for the bottom the boots, safety rope, and life preservers. 
Species pursued will be dictated by ice conditions and the regulations governing fishing seasons. Angling for northern pike, walleye, lake trout, brown trout, rainbow trout, landlocked salmon, yellow perch, and various panfish will be offered. Guests will learn various strategies and techniques in order to pursue and catch fish under the ice.
All equipment will be provided including a guest only heated shanty. Catamount is dedicated to providing a safe and Covid free environment for guests. My gear will be disinfected between trips and social distancing will be practiced. 
Ice Fishing is a ton of fun. A really nice way to spend a winter day in the great outdoors.
Purchase Gift Certificates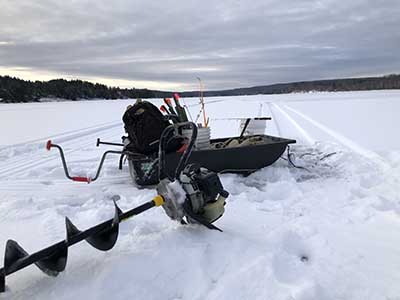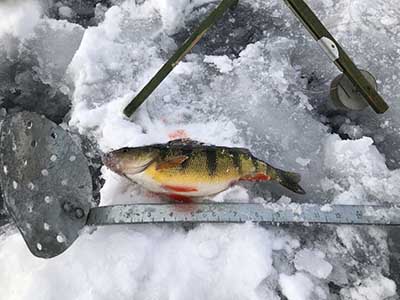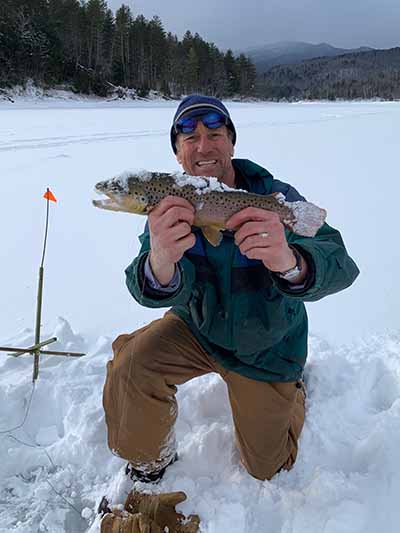 Ice Fishing Half Day
1 – 2 People: $275

3 – 4 People: $375
Ice Fishing Full Day
1 – 2 People: $375

3 – 4 People: $475
Federation of
Fly Fishers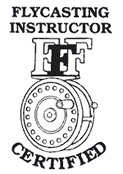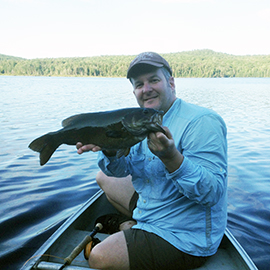 I've been fishing with Willy for over a decade. Though I now live over 3,000 miles away, I still return each summer to fish with him. I've fished all over the world and can honestly say that he's my favorite guide to fish with. He guided me to catch my first landlocked Atlantic salmon, and many many beautiful trout and monster bass. He's a true gentleman and kind soul, he turns a fishing trip from a sport into a journey of discovery and wonder in the gorgeous green hills of Vermont.
Zephrin L. – California 
---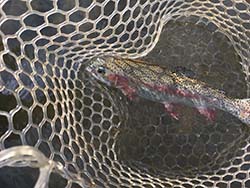 Given a total lack of confidence, coupled with an amazing inability to catch any fish, and a great willingness to humiliate myself on the banks of  rivers, I hired Willy for a day to turn things around. Then I hired him for another day. Assessing my skill set he actually managed to find something I was doing correctly and built on that. His manner was very cool and kind. Besides giving me a basic understanding of rivers and teaching me how to fly fish he gave me confidence. Enthusiasm for the sport followed.  Now living in British Columbia, ten or so years later, I still feel Willy standing beside me whether I'm fishing for salmon in the ocean or cutthroat in the river. Thank you.
C S Hinton