Hatch Chart for Lamoille and Winooski Drainages
For all of my fly angling clients I am including a hatch chart for the upcoming season for my home waters of the Lamoille and Winooski drainages. Many hatches are affected by weather. Time frames are merely a reference point and not necessarily exact. The hatches mentioned below occur in moving and still water. However, most are exclusive to one or the other. I am not including the Latin names as trout do not speak Latin.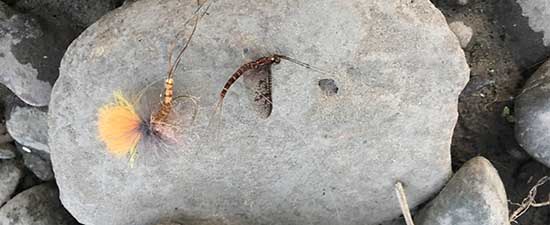 Remember when using this chart that many patterns work to represent these various hatches. I am offering up some patterns that have served me well. More often than not the presentation of the fly is far more important than the actual pattern itself.
Common Name
Hook Size
Month
Patterns
Brown Stonefly
#12-#14
late April to early May
Spring Wiggler, Brown Rolling Stone
Cranefly
#10-#16
late April thru August
Tan Cranefly Larvae
Blue Quill
#16-#18
First week May to third Week of May
Turkey Flat Blue Quill Dun, Pheasant tail
Hendrickson
#14-#16
early to mid May
Hendrickson nymph, Red Quill, Rusty Spinner
Black Caddis
#16
Mid May to end of month
Grayish black pupa, black x-caddis, CDC Winged adult with dark grey body
Candy Apple Caddis
#14
First week of May to third Week of May
Candy apple bodied x-caddis, Green caddis pupa
March Brown
#10-#12
Mid May to end of month
Pheasant Tail nymph(flashback), Brown Copper John, Compara Dun, Ausable Wulff
Grey Fox
#14-#16
Mid May to end of month
Pheasant tail, Adams, Sparkle Dun
Sulphers
#14-#16
third week May to end of Month
Yellow Soft Hackle, Sulphur nymph,   Sparkle Dun, Spotlight emerger, Catskill Style sulphur dry, Parachute Sulphur
Little Sulphers
#18-#22
End of May thru August
Sulphur snowshoe hare emerger, Pheasant tail, Spotlight emerger, Sulphur Parachute
Cinnamon Caddis
#16-#18
Season Long beginning in Mid May
Tan/brown caddis pupa, Henryville Special, X-Caddis tan/brown body
Brown Drake
#8-#10
5 day hatch within first two weeks of June
Dave's Red Fox Squirrel nymph, Ausable Wulff, Drake Parachute, Rusty Spinner
Light Cahill
#14
June
Tan Bird's Nest, Yellow soft Hackle, Catskill Style Cahill dry
Hexagenia
#6-#10
middle June through July
Hex nymph, Crippled Hex Dun, Compara Dun, Spent Spinner
Potamanthus
#8
End of June through Mid July
Compara Dun, Hare's Ear Nymph, Grizzly Wulff
Baetis
#20-#24
May, early July, late September through October
BWO nymphs, peacock soft hackles, BWO dun, BWO Parachute, BWO spinner
Golden Stonefly
#6-#10
July through mid August
Double Tungsten Stonefly, Orange bodied Stimulator,
Tricos
#22-#26
late July through August
No hackle dun, Compara dun, black/white spent spinner, Trico Dun, drowned spinner
Epherons
#10
end July to first two weeks of August
White Wulff, White Miller, White Spinner with extra long tails
Little Black Caddis
#18-#20
end of July through August
Grey bodied pupa/larva, black/ grey bodied x-caddis, black CDC caddis
Micro Caddis
end of July through beginning September
Vermont Caddis, Tan-bodied X-caddusm tab/yellow caddis Pupa.
Terrestrials
#10-#20
June through September
Foam Hoppers in green, Black Ants, Foam Beetles, Green Stimulator
Flying Ants
#14-#22
Late August through September
Cinnamon/brown foam Flying Ants, parachute ants
Isonychia
#12-#14
Late August through September
Pheasant tail, Isonychia Nymphs, Zug Bug, Adams, Grey Wulff
Green Sedge
#14
August through September
Green bodied caddis, Green wire caddis pupa, Olive hares ear
Blue Winged Olive
#20-#26
Late September through October
micro mayfly, BWO dun, BWO parachute
© Copyright Catamount Fishing Adventures, All Rights Reserved
I would like to mention that Vermont is a pretty nutrient poor place. Not tons and tons of prolific hatches like other places in the country. Don't rule out using attractor patterns like Prince Nymphs, Royal Wulffs, Mickey Finns.
One fly left out in the hatch chart is the good old Wooly Bugger. Maybe the one nymph/streamer that you can't miss with. A bugger in black and olive is an excellent representation of a crawfish. Many large trout in the Lamoille and Winooski make a habit of consuming crawfish. Dead drifted or presented off a sinking line is extremely effective.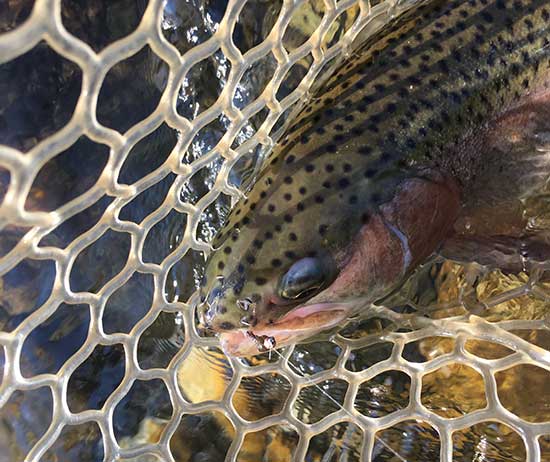 Reserve your date for the 2021 Season