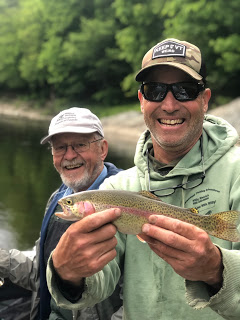 Willy Dietrich of Catamount Fishing Adventures blogs on the conditions of the waters in the Stowe, Vermont vicinity and discusses weather, water temps, what's biting, and what they used for flies, if you want Willy to take you fly fishing this season, book a trip now, or read about recent trips here.
Hi Folks, Well June is on the books. Pretty decent month of trout fishing. Lots of hatching insects and feeding fish. The weather has created some issues. We went from near drought conditions to a tropical rain forest. Stable weather in fishing is always preferred....
read more
Hi Folks, It has been a good May on the water. The fishing has been consistent. However, it is very dry and we really need rain. Currently, the big blue skies and hot sunny weather is making the fishing tricky. The best time on the water has been early or late day....
read more
Hi Folks, The river fishing is dynamite right now! Water temperatures are high fifties in the Lamoille watershed. Water levels are low. We need some steady rain. Even with the showers last night, everything is pretty dry. Our rivers are stocked and the hatchery fish...
read more