Greetings From Willy Dietrich, Catamount Fishing Adventures
Spring 2020 News
Hi Folks,
Crazy times we are currently all experiencing. I wanted to reach out to express my concern and hope for everyone's safety and well being during this difficult period in our society. We will together endure the hardships created by COVID-19 pandemic. Let's all hope that we will be fishing before we know it!
I would like to thank everyone for your past support of Catamount Fishing Adventures. In addition, I want to thank all of the medical personnel, police, fire, first responders, and essential business employees who are putting their well being on the line for all us on a daily basis. Truly a time to be grateful for all of the sacrifices being made by our fellow man.
Contacting Catamount Fishing Adventures
Follow my blog on my website, www.catamountfishing.com.
Please note the new email address, willy@catamountfishing.com
(no other email addresses are valid)
My phone number remains (802) 253-8500.
Feel free to call or text. In addition, I can be contacted through social media.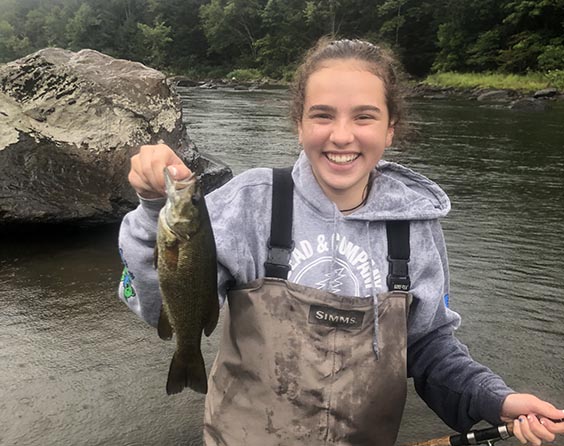 Vermont Fishing Conditions Report
I will continue to post Vermont fishing conditions on the Catamount Fishing Adventures Facebook page and on my website blog, "Vermont Fishing Conditions Report".
I hope that my fellow anglers enjoy and find my fishing reports informative and educational. My reports attempt to focus on the specific body of water I guided or fished on a given day or week. I will never attempt to give a broad report on fishing conditions. If I have not explored or fished a specific area, then I will not be writing about it. No guessing from Catfishwilly, just factual information I ascertain while on the water.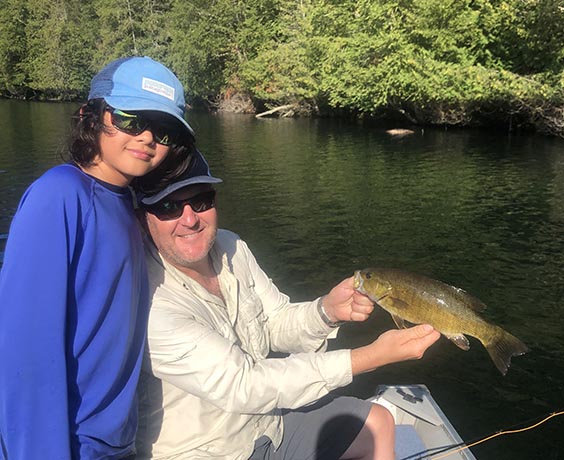 Coronavirus Measures
Catamount Fishing Adventures is always concerned for the physical and mental well being of our guests. The Coronavirus has and will force us to take necessary measures to ensure safety for all. I am a big fan of science and not self serving politicians. My business decisions with guiding will be based on science. I will respect and adhere to Vermont Governor Scott's guidelines on social distancing and stay at home orders.
Vermont Fish and Wildlife has posted on their website www.vtfishandwildlife.com. some general guidelines for anglers to follow. Fish and Wildlife is encouraging angling. They just want to ensure that anglers are adhering to Covid-19 guidelines.
I will not be guiding until the stay at home order is relaxed. Presently, the stay at home order is in place until May 15. Catamount Fishing Adventures is a non-essential business. Though I think fishing is necessary for everyone's sanity and provides great stress relief.
Catamount is still booking fishing trips and selling Gift Certificates. I encourage guests to book. I will continue to take $100 deposits. The deposit will be refundable. All advanced bookings and Gift Certificates can be used anytime in the future when Catamount is operating.
If you have followed my fishing posts over the years, you will have noticed I always conclude with the same sentence. "Remember to clean your gear and keep the non-native species at home." This could not be more to the point than in today's world.
I will be diligently cleaning all of my gear. That means all waders, wading boots, rods and reels. I am planning to bring rubber gloves, sanitizing wipes, and hand sanitizer for guests on trips. I will do what it takes to ensure my guests safety and mental peace.
Social distancing is proving to be an effective measure to combat the Coronavirus. The most popular adventure I offer are my river wading trips. I feel confident that guided river wading trips can maintain social distancing parameters. I will be limiting the number of wading anglers per trip this season.
Catamount Fishing Adventures has offered river wading for 1 to 4 anglers. Occasionally, we have guided larger parties up to 10 anglers. I will not be offering trips for groups greater than four. It is too difficult to maintain proper social/physical distancing with large angling groups. My decision is based on providing a safe experience.
I will not be offering boat trips until the social/physical guidelines are relaxed. I have a 14' drift boat, 16' motorboat, and several canoes. I am not comfortable putting guests potentially into harm's way. Pretty tight quarters on a boat.
As many of my past guests know, I have provided transportation for a high percentage of my trips. Often I pick people up at a hotel, house, or meet at a nearby location. Unfortunately, I will not be able to transport guests until the Coronavirus pandemic subsides. This is a tough decision for me. I have found over the years that my guests love this facet of my guiding business.
I am more than willing to change with the times. When it is determined that life can return to the new normal, then I will reassess my decisions. I feel confident that when I am allowed to guide again, that Catamount Fishing Adventures will be able to offer a safe fishing experience.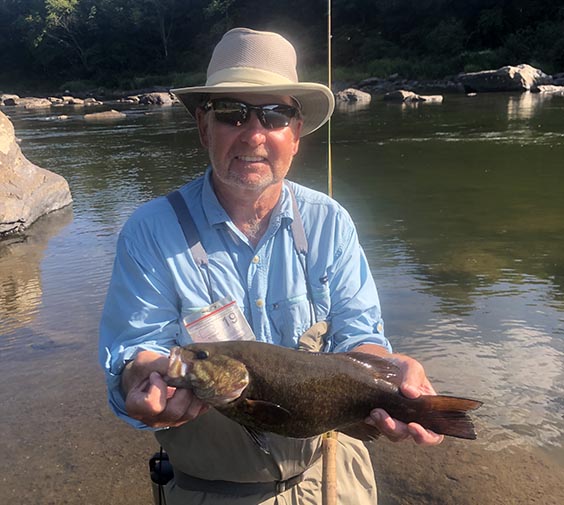 Catamount Fishing Adventures Price List 2020
Wading Adventures
Half Day Adventures:
1 person, $200
2 people, $350
3 people, $375
4 people, $400
Full Day Adventures: (lunch included)
1 person, $350
2 people, $400
3 people, $450
4 people, $500
Canoe/Float Tube Adventure
Half Day Adventure
1 person, $225
2 people, $375 (float tube only)
Full Day Adventure (lunch included)
1 person, $400
2 people, $450 (float tube only)
Drift Boat/Motor Boat Adventures
Half Day Adventures
Full Day Adventure (lunch included)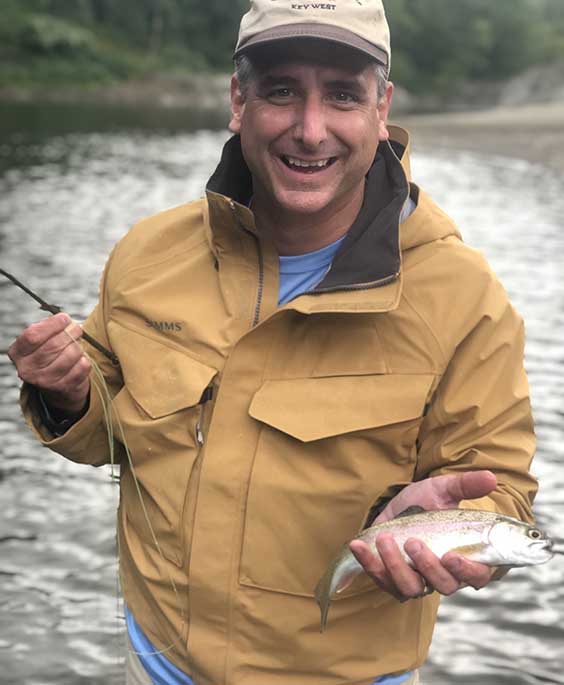 Fishing Forecast
Vermont offers a wide variety of fishing opportunities. As many of you know, I am a river rat. I love fishing and guiding moving water. The Green Mountains offer up endless miles of rivers, streams, and brooks.
The species pursued in our rivers are rainbow trout, brook trout, brown trout, landlocked salmon, smallmouth bass, and the occasional walleye. Every species has a preferred water temperature. Thus different months in the season are more productive for certain fish versus others.
Big water trout fishing on the Lamoille and Winooski rivers is typically best in spring and fall. Rainbow Trout and Brown Trout are the dominant cold water species in both rivers. A mix bag of stocked and wild fish. The Lamoille really excels from the end of May through the end of June. I like the Winooski from the end of August to the middle of October. I do not like to fish the same piece of water everyday. Both watersheds offer up countless riffles and pools to enjoy and manage wisely.
It is not uncommon that summer in Vermont can be cool and damp. When it is the case, early morning forays on the Winooski and Lamoille can be consistent for rainbows and browns.
Typically my trout fishing in the middle of summer is spent on cool mountain streams and brooks. Lots of opportunities for native Brook Trout on dry flies. Plus many brooks I guide have healthy populations of large wild Brown and Rainbow Trout. If you enjoy dry fly fishing, Vermont's numerous brooks are the ticket!
The smallmouth bass fishing in Vermont is outstanding. My favorite time to pursue bass is from the beginning of July through the middle of October. Early spring bass fishing is really consistent from the pre spawn period to actual spawning in late April to the beginning of June. I just prefer catching bass when the water is warmer in the Summer and Fall and the fish are not on spawning beds.
I have several locations that are outstanding river fishing for smallmouth bass. Lots of wading rocky rivers and gentle meandering streams for big hard fighting smallmouth. Our river fishing for Smallies is excellent from the beginning of July through the beginning of October.
Catamount Fishing will continue to offer still water fishing trips. Generally we pursue Smallmouth Bass, Largemouth Bass, and Northern Pike. However, until it is safe to fish together in a boat, Catamount will not be employing our boats.
When I first started my business 24 years ago, I spent a lot of time fishing from float tubes. I will be reintroducing my float tubes to the water in order to offer a unique still water angling experience. Pretty exciting fighting and landing a large pike or bass from a float tube. Float tubing would conform to social distancing guidelines. Plus it is tons of fun.
Vermont's fish population is not going away. As far as we know, the Coronavirus does not impact our fisheries. We the anglers need to adjust our fishing tendencies. Catamount Fishing Adventures will survive the Coronavirus pandemic. I look forward to the opportunity to fish with all of my valued guests in the near future. Everyone be safe and feel free to contact me anytime. "Remember to clean your gear and keep the non-native species at home."
Thanks,
Willy Dietrich