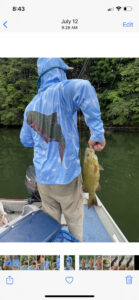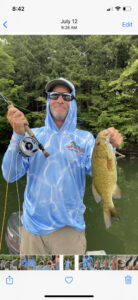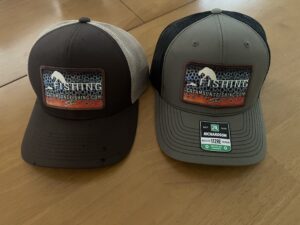 Hi Folks, I hope everyone had a great Thanksgiving. Starting to feel like winter. Now that the Christmas season is upon us, Catamount Fishing Adventures is selling hats and fishing shirts.
I am selling a Trucker Style ball cap that is made of recycled materiels.  The caps are being offered in green/black and brown/tan featuring the Catamount Fishing Adventures logo front and center. Ball caps fit all head sizes with the size adjustment in the rear of the hat. Trucker Style Ball Caps are $25 plus shipping costs. If you live local in Vermont, I am happy to meet up with anyone to get your merchandise to you.
The Catamount Fishing Adventures shirt is a must have for anglers and anyone who enjoys the outdoors. The long sleeve hooded shirt provides excellent protection from the sun. It has a SPF rating of 50. Light weight and breathable, the shirt is extremely comfortable even on the hottest of summer days. In addition. a great under layering garment for those who spend time outside all winter. A light blue camo pattern that blends in beautifully with the back drop of the sky. The artwork features the Catamount Fishing Adventures logo on the upper front left, a huge Brook Trout on the back, and my web address on the right sleeve cuff. Shirts are available in a wide variety of sizes. The Catamount Fishing Adventures Fishing Shirt retails for $65 plus shipping costs.
On the fishing front, I am waiting for the ice to form. Looks like the cold weather has set in and the transition is now taking place from open water to the hard water. My hope is to be on the ice by mid December. My early season ice fishing forays will be for northern pike, walleye, and yellow perch.
I am offering 4 hour and 8 hour ice fishing adventures. All equipment is provided. I have a large portable shanty that is heated. Every trip is educational and I am in the fun business.
Once the ice is safe, I will be offering trips 7 days a week. Looking forward to ice fishing. Remember to clean your gear and keep the non-native species at home. Have Fun, Willy